---
The official Twitter account for KLab Games and Axel Game Studio's Yu Yu Hakusho 100% Maji Battle (100% Serious Battle) smartphone game announced in December that the game will end service on February 21 at 5:00 p.m. JST.
The game is no longer selling Spirit Stones or SP Gacha Tickets. Unused purchased items will be eligible for refunds after the game ends service.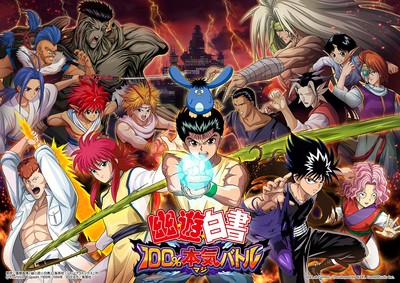 The app features super-deformed versions of Yu Yu Hakusho characters. Players will be able to create a "dream team" for 5-vs-5 battles. The app launched in 2018.
The app reunites anime cast members, including Nozomu Sasaki as Yusuke, Shigeru Chiba as Kuwabara, Megumi Ogata as Kurama, Nobuyuki Hiyama as Hiei, and Hisako Kyouda as Genkai.
Mobcast and eitarosoft are also developing a separate smartphone action role-playing game for the franchise.
Yoshihiro Togashi (Hunter x Hunter) published the original Yu Yu Hakusho manga from 1990 to 1994. Viz Media began publishing the manga in its English edition of Shonen Jump in 2002, and it also released all 19 volumes in print.
The manga follows 14-year-old delinquent Yusuke Urameshi, who dies after saving a child in a car accident. The Spirit World is surprised by his death and offers him a chance to come back as a "spirit detective" who is tasked with defeating demons.
The television anime adaptation ran from 1992 to 1995, and spawned two films and two original video anime (OVA) releases. Funimation released the television series and OVAs on home video in North America. Media Blasters and later Funimation released the first film, and Central Park Media released the second film. The television series ran on Adult Swim and later Toonami.
The manga inspired a stage play that ran in Japan from August to September 2019. The manga is also inspiring a live-action series on Netflix.
Sources: Yu Yu Hakusho 100% Maji Battle game's Twitter account, Dengeki Online via Siliconera
---